December 12, 2012 marks the 100th anniversary since my grandmother, Sophie Klebanska Neff, arrived in the United States on the SS Finland (grandma's on the lower right, wearing the white head scarf). From New York Harbor she took a train to Chicago. She was 17.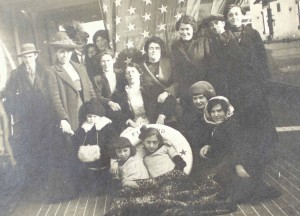 Had she not made the decision to leave Slonim, Belarus, what would not have happened? She would not have saved the lives of soldiers infected with the Spanish Flu during World War I. She would not have earned a bachelor of science degree from University of Chicago in 1918, when few women went to college at all, much less in the sciences. She would not have become the first woman bacteriologist on the staff of the Chicago Board of Health. And, most important to me, she would not have met my grandpa Jack and given birth to my dad, Leonard, or his sister Martha.
Thank you, grandma, for making the decision that allowed me to be.