My grandfather Benjamin Chernrodsky had an older sister named Clara. Clara was married to Getsel Finkelstein, who owned a toy store in Berdichev, a town that was in Russia then, but is now in Ukraine. She and Getsel had a son named Aaron, also known as Harry Fink. Clara came to the US in 1907 and saved up money so she could bring Harry over a few years later. Getsel stayed behind, and eventually remarried and had more children (see picture).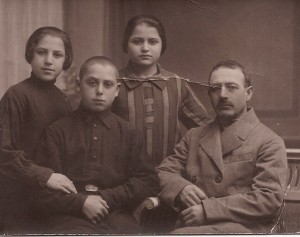 According to an phone interview I conducted with Harry 20 years ago, Clara was a midwife. So, conscientious genealogist that I am, I went searching for proof of Harry's  statement. Twenty years have gone by, and I still haven't found a single document that indicates her occupation as midwife. Clara remarried as well (to Eugene Weisz of Detroit), and had a daughter named Elsie. In the 1930 census the occupation box is empty, and in Detroit city directories she is listed as a housewife.I have been unable to find Clara in either the 1910 Chicago or 1920 Detroit censuses despite intense and repeated searches. Over the years, I have read voraciously about the history of midwifery, and searched through many resources, trying to find documents that would support Harry's story. Nada.
It occurred to me that other people have relatives in their family tree who may have been midwives, and that they would be interested in learning how to dig deeper into this aspect of their ancestors' occupations. So I decided to share the resources about midwifery that I had found with others who share my interest. I submitted a proposal to speak at the Genealogy Jamboree, the annual genealogy conference sponsored by the Southern California Genealogical Society. I was not accepted to speak at Jamboree, but I will be leading a webinar for the Society on June 1, 2013. If you'd like to join the fun, register for free at: http://www.scgsgenealogy.com/extension-series/jes2013.html.