I'm a genealogist, so I am interested in the stories of those who are no longer with us. But I am also concerned with finding the offspring of those who are long dead, to knit back parts of families that have long been separated.
Obituaries can be a wonderful source of information – a skein of yarn to start the knitting. This recently found one is for a person of whom I knew little, but which gives me clues I will need to move forward 2 generations in time.
"]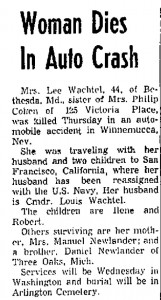 According to this obituary from the Syracus (NY) Post-Standard, Lee Wachtel died in a car crash on August 1, 1963 at the age of 44. I had never heard the name Wachtel, and would never have seen this newspaper story if it hadn't mentioned her mother by a name I did know, Eva Newlander. Eva was married to my grandfather's first cousin, Manuel Morris Newlander. Manuel, who had been born in Chicago, had moved to Michigan years before I started my genealogy research, and no one I knew had ever heard of him. But I knew he was the son of Morris Newlander, my great-grandfather Isaac Kishinevsky's brother.  If Eva was her mother, then this Lee was the girl I knew as Leonora Newlander, born July 14, 1919.
One thing that is remarkable about this obituary is what it doesn't say. Were the other passengers in the car injured or killed as well? Luckily, the obit says that the accident took place in Winnemucca, Nevada, and that the family lived in Bethesda, MD. Possibly there were newspaper stories in both towns that covered the accident or that included other obituaries that might have more information.
This obituary included some information about other people I already knew about. Lee's mother Eva is still alive in 1963 (In fact, the same day I found this obit, I found one for Eva as well, and she lived until 1984). I already knew of Lee's brother Daniel from census documents. I even knew that Leonora had a sister, Mildred, but I didn't know her married name – but it's here: Mrs. Cohen of 135 Victoria Place, Syracuse, NY.
The obit includes information about 3 people I had never heard of: her husband, and her two children. Louis Wachtel was a commander in the US Navy, and the family was driving to San Francisco at the time of the crash for him to take up a post there. I have never worked with naval records before, but there is likely a trail I can follow. And the two children were named Ilene and Robert. Ilene may have been married and lost in time, but a Robert Wachtel would likely be traceable.
I have enough yarn to cast on to my knitting needle and can't wait to get started finding the rest of the skein!