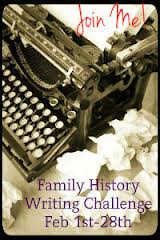 Today is Thankful Thursday, and the end of the Family History Writing Challenge. Here is what I am thankful for, now that the Challenge is complete.
I am thankful that I was able to create 25 of the planned 28 posts during February, more than all the posts I have created in the 6 years that this blog has existed. I have learned that even with the FHWC to kick me in the butt, I still face challenges with blogging daily.
I am thankful that I have learned that if I create a blog calendar, I can devote several hours over a weekend to creating posts for the entire week, and schedule them to be posted in advance.
I am thankful that I now know that every document I have collected in the last 20+ years of research can generate at least a 250 word story (that was my commitment). In general, I can write the first draft within a half hour, and craft it to my standards within an hour.
I am thankful that I have learned to tag each post before previewing – this is important, because I neglected to tag the earliest posts for this blog, not realizing that I needed to scroll down in order to see that option. I have edited all earlier posts and tagged them properly.
I am thankful that I know how to drag and drop more than one image into a post, and can add images to any part of the post, not just at the start of the first paragraph.
Thank you, Lynn Palermo (The Armchair Genealogist), for sponsoring the Family History Writing Challenge. Even though I don't plan to blog daily, I feel confident that I can maintain the discipline to create twice weekly