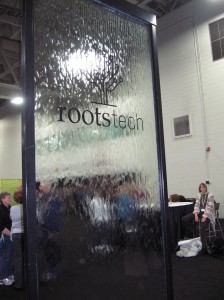 This post didn't come into existence yesterday, because I spent the time I should have been creating the post dancing at Thomas MacEntee's birthday party last night. It was definitely the right choice to make – we all had a blast celebrating!
Yesterday I attended sessions all day, along with 6700 other folk. I know my wheeled bag was responsible for more than a few bruised toes (apologies to the victims), and my own toes got a bruising as well.
The first morning session I attended was Kory Meyerink's session "Evaluating Databases and Overcoming Their Errors." I've heard Kory speak before, and knew he would cover the topic logically and thoroughly – and with humor – and he didn't disappoint. The suggestion to always check the section that describes each database you use before plunging into a search was an important reminder for all genealogists, beginner and advanced. He mentioned using the FamilySearch research wiki to study Kentucky land records, which reminded me that I could use it as well to learn how to find out more about the Turkish Tobacco company formed in Vanceburg by my great-uncle Morris Newlander, who my grew tobacco in Kentucky for his cigar making businesses in Chicago.
Peggy Baldwin's "Shrewd Internet Strategies: Diving Deeper" was next. I liked Peggy's advice to keep a Google cheat sheet by my computer. I already knew about using a tilde next to a key word (like ~genealogy) to have the search generate results that include all synonyms for that key word, but I had forgotten. I am definitely going to find an existing cheat sheet using Google when I get home. I also appreciated the heads up she gave that FamilySearch now allows wild card searches with the asterisk at the start of the word or name (eg, *ishinevsky to identify any record for which an indexer may have misinterpreted the first letter).
This is the year I will have to enter the 21st century and buy a smart phone. My main motivation is to include info about smart phone apps for my upcoming book "Health Care Navigation 101." But I wanted to learn how I could exploit the soon-to-be-mine gadget for genealogy and family history. So I next attended David Lifferth's presentation "Using Your Android Device for Genealogy and Family History."  He covered how an Android phone can help the genealogist on the go from A to Zed. And I'm also going to crib a style layout from his title slide, which was beautifully designed. I can already visualize my family photos laid out in similar fashion. Thanks, David!
I did not inherit the gene that bestows the ability to be naturally organized. So, I have to work at it. I still maintain 3 ring binders labeled with family names, and my computer folders are well organized for the way I think – but one can always learn one more tip that will help keep organization maintained. That's why I attended "From Paper Piles to Digital Files," given by Valerie Elkins. I will definitely implement the first suggestion she offered: to write Standard Operating Procedures for tasks that I do repeatedly. In my case, I definitely need an SOP for scanning procedures for my desktop and mobile scanners – I don't scan often enough to remember all the steps from one time to the next. Valerie is a proponent of David Allen's "Getting Things Done," and mentioned a program called Zendone that acts as an electronic in-box that automatically saves items that you choose to Evernote. Sounds like a real time-saver that is well worth checking out. She also mentioned some scanning apps for the Android phone I plan to buy: Camscanner; DocScanner; and Doc Scan Pro.
I finished out the day by hanging out in the Expo Hall. First, I stopped to visit with exhibitors I already knew, like Genlighten and the Southern California Genealogical Society, which is sponsoring my upcoming webinar "Do You Have a Baby Catcher in Your Bloodline?" I also visited a few vendors that were new to me: SeekingMichigan.org, for example. We couldn't find my great-uncle Eugene Weisz (who lived in Detroit), but I'll keep checking back as they bring more content online. Just before the hall closed, a delightful man named Olof from Arkiv Digital spent a half hour with me, helping me find documents pertaining to a collateral line of mine who migrated to Malmo, Sweden.
A full day, but there was still some heavy-duty partying to be done…