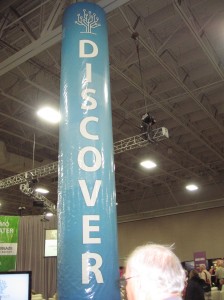 Today's Rootstech theme was Discover.
First I discovered that Rootstech did not do a good job of setting the target audience for the workshop I had chosen for the first morning session — Karen Clifford's session "Using Technology Effectively to Solve Research Problems." According to the legend in the Session Schedule, it was an intermediate class, and I was looking forward to a challenging class at that level. There must have been some miscommunication, however, because Ms. Clifford evidently proposed it as a beginner class — she stated outright that she thought there would be more beginners there. I saw many people get up and leave, evidently as upset as I was. But I was brought up old school (ie, to be polite), and as a presenter, I know how disruptive such behavior can be to one's concentration and pacing, so I stayed. I did get a few nuggets of new knowledge that will be helpful for researching a client's family. For example, I knew that most people married in the town where the bride lived, but I was not aware that a newlywed couple would often stay in the wife's hometown at least until the birth of first child so the mother could act as midwife. I will incorporate this nugget into the webinar ("Is There a Baby Catcher in Your Bloodline?") that I'll be presenting for the Southern California Genealogy Society, about researching ancestors who are midwives (http://www.scgsgenealogy.com/extension-series/jes2013.html).
Luckily, the 2nd session, "Digital Storytelling: Beyond Bullet Points" led by Denise Barrett Olson provided many useful discoveries. I have used PowerPoint for years to develop slide sets for presentations at medical conferences. Those presentations have to follow a strict, and boring, format, because speakers generally only have 12 to 15 minutes to summarize and share mounds of data. With that tiny slice of time, you can't take the chance on adding audio or video to engage the audience, because if anything goes wrong, you do not get extra time – the schedule is the schedule. But I took mad notes to crib design ideas from Denise's mini-movies within a slide show. I can just envision a variation on some of her themes with the pictures from the photo album that my late grandmother brought with her to the United States from Russia 100 years ago, with audio embedded from the oral history interview I did with her before she died.
During my first afternoon session Thomas W. Jones presented a classic case study entitled "Can a Complex Research Problem Be Solved Solely Online?" I discovered that, unlike other case studies I'd seen presented at other conferences, it was possible to incorporate both audience participation and wry humor when leading attendees through decisions about what record groups to consult to answer genealogical questions.
It was the NGS luncheon that led to the best discovery of all – an unexpected way to connect to someone. I had registered too late for Rootstech to snag a ticket to the luncheon, but my friend Susan Kitchens decided to prep for her afternoon presentation, and offered me her ticket. I arrived late, and only a few tables had empty seats. I chose to sit at one table randomly – all right, it was because there was a cute guy sitting there – who turned out to be attending BYU majoring in genealogy. I introduced myself to Paul and the older fellow to his right, Gary. I mentioned that, being from Southern California, I didn't have warm enough clothes for the snow that had fallen throughout the conference, even though I had traveled here often. I knew how cold it can get in Salt Lake, because my husband, Dan, had been born in Wyoming and had grown up in Utah. Gary looked more closely at my name tag and said "Rollins? My step-father is Gary Rollins, from Lyman, Wyoming." "Oh," I said, "I've been to the oldest cabin in Lyman, where my husband's grandfather was born." Gary: "My step-father is Porter Rollins and that cabin is on his property across the road from his house. He must be related to your husband's family." OMG!
My mother would say there are no coincidences. Otherwise how would I have driven 800 miles to a genealogy conference, and attended a luncheon which I was not supposed to attend, only to sit at a table at random and find the stepson of one of my husband's cousins? Genealogy is all well and good, and technology with genealogy is even better, but isn't it really all about connecting people face to face? What do you think?