I plan to live as long as my maternal great-grandma Eugenia – who was about 108 years old when she died…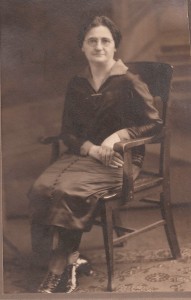 Great-grandmother was born Gittel Gumenik about 1861 near Zhitomir, which was then in the Russian Empire. Gittel was her Yiddish name; Eugenia was her official Russian name. Her maiden name means someone who works on a threshing floor making sure  sure no one steals anything from the barn where the grain is separated from the chaff. The surname may also have derived from the village of Gumenikki (which is about 10 miles northeast of Zhitomir).
When she was 16, Gittel married Naftula Pekler, who was a traveling salesman for the Singer Sewing Machine Company – which had a factory in Russia. He was a snappy dresser, and by all accounts, a ladies' man. Gittel gave birth to 11 children, but only 7 lived until adulthood: Sasha, Matt, Tanya (my grandmother), Raya, Bertha, Esther, and Philip.
Gittel dutifully followed her husband from Zhitomir to Rovno (which was then in Poland), where the family lived with false papers for a year before they could emigrate in 1922. Evidently, she had been warned that American immigration officials were likely to deport her as "likely to become a public charge" if she revealed her true age. Back then, when typical life expectancy was about 50 years, someone over 60 was considered unemployable. So she shaved a dozen years off of her age for that voyage, and claimed to be 48. Eugenia kept up that ruse well into the 1960s, claiming to have been born in 1871 when she applied for a Social Security number so she could work at my grandpa's clothing store.
Once the family left Zhitomir, Gittel's feistiness blossomed. She absolutely refused to live with her husband any more. In the 1920s, this was not the done thing, but she stood her ground and never lived with Naftula again. The 1930 census, the first one in which members of the Peckler family appeared, shows that Eugenie was living with her children Bertha and Philip (and claiming to be a widow, even though her husband was still alive). Anatole was living with Sasha and his wife and kids.
Eugenia was determined to become a naturalized citizen. It took her nearly 20 years living in the U.S. to achieve it, and the day she took the oath in 1943 (when she was 82) was one of the happiest in her life.
When great-grandma moved to the Chicago Jewish Home for the Aged, she was the oldest resident who had ever lived there. She died in 1969 at the age of 97 or 108, depending on whether you believe her headstone or her naturalization certificate. With her as my role model for aging, I confidently expect to live to be a centenarian. Thanks, great-grandma for providing some outstanding DNA!