Today's mystery is one that has challenged me for more than 20 years – when was my great-grandmother, Eugenia Gumenik Pekler, born?
Because she was born in Europe, and I don't know exactly where, I do not have a document that clearly states her date of birth. It is possible that even if I knew exactly where she was born, that her parents never registered her birth officially. Jews in the Russian Empire were understandably reluctant to have anything to do with government officials. Even if they did register her birth, the tome in which births were registered that year may not have survived pogroms or World War II.
So what do the documents that I have show about her likely date of birth?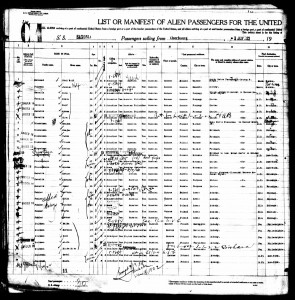 The first document in my possession that pertains to Eugenia's date of birth is the passenger manifest. Eugenia, her husband, and 3 children arrived in New York on 17 January 1922. According to the passenger manifest, she was 60 years old. According to my mother, however, Eugenia shaved years off of her age, and off those of her daughters. She may have felt this to be necessary in order to avoid being considered too old to work, and therefore someone who might likely to become a public charge. They were probably warned about this possibility by their older sons, Sasha and Matt, who had already immigrated to the United States. Had she really been 60, she could have been born sometime between 1861 and 1862.
The US Federal Census usually asks the age of each member of a household. Eugenia arrived in the United States in 1922. So the first Federal Census in which she appears is 1930, which was enumerated on April 9. As I remember her, Eugenia always spoke with a heavy Eastern European accent. In 1930, her English was probably not that good. Perhaps Bertha or Philip (the only two children who still lived with her), whose English was better than hers, was the person who provided the information to the census enumerator. In that census, Eugenia's age is listed as 55. If that were accurate, she would have been born no later than July of 1875. Looks like she was shaving off the years again.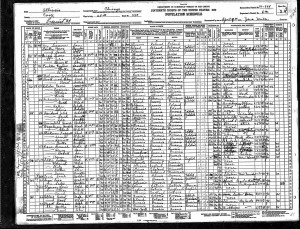 I have not found her entry in the 1940 US Census. This is odd, because her husband had died 3 years before, but she wasn't living with any of her married children.
I found two index cards for her naturalization. One card (dated 17 Sep 1943) states she was 82 years old. If she gave her correct age at that time, she would have been born no later than late September 1862. The other index card says she was born Feb 22, 1861 (Peckler Gittle natzn card).
On Eugenia's death certificate, her birthdate is given as November 1872. The certificate also said she was 96 years old. Her tombstone says she was 97.
So, I have 6 different birth years ranging from Feb 22 1861 to July 1875.We can eliminate the 1872 and 1875 dates, because I speculate she was unlikely to lie about her age to make herself older on the passenger list. Based on the other information on hand, the closest we can estimate is that Eugenia Gumenik Peckler was born is between February 22, 1861 and September 1862. In either case, when she died in 1969, Eugenia would have been between 107 and 108 years old. I don't really need to know her birthday – just that I have inherited some pretty amazing longevity!