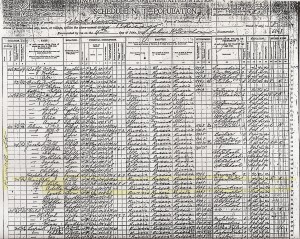 As of today, I am participating in the Genealogy Do-Over community in conjunction with Thomas MacEntee and the GDO community. I have chosen a modified Genealogy Go-Over approach.
Here's why.
I already have paper and digital file organization that work for me, although digital file names are not as consistent as I'd like. I have color-coded folders for paper documents and I may download the software program that color-codes digital files to match my paper filing system. I also have redundant back-up systems in place, although I have just downloaded iDrive to compare with the systems I currently use.
But my biggest genealogical weakness during 25 years of personal research was not to keep a formal research log. I use a modification of Thomas MacEntee's Excel research log for my genealogy clients, but like the shoemaker's children who go barefoot, my genealogist's children also had no shoes, ie no formal research log. Back in the day, I made sketchy notes on Xerox copies or lined notebook paper. More recently, I copied document titles as-is from online sources and pasted them at random into a Word document entitled "Notes."
Of course, with inconsistent research logs, I had inconsistent — or nonexistent — citations back then, too. It wasn't because I was glomming other peoples' unsourced trees onto my own. Because I started my research before the internet, I was never tempted to do so. However, although I have started to enter citations into my Legacy software several times, I always felt too overwhelmed at the sheer volume of documents I had collected, and the inadequate citations I had copied and pasted into my notes, and always gave up mid-way. I will be reversing that trend during the next 13 weeks (I actually started typing "years" there…LOL!).
With the above in mind, today I decided on my major goals in participating in the Genealogy Go-Over:
Start a new Legacy database

Since time is limited, I will concentrate only on the Kishinevsky line
Every item of information I enter will have  proper citations associated with it

Improve my evidence analysis skills by looking at existing docs with new eyes — and skills that I didn't have when I saw my first US Census entry 25 years ago [xerox copy shown above, complete with yellow highlighter] and burst into tears
Establish a formal research log for the Kishinevsky line and enter every genealogically relevant document I have, with complete citations and transcripts
Redo any remaining file names for consistency for every Kishinevsky-related document I have
Consolidate all paper and digital to-do/to do/research plan lists and pick 1-3 things to accomplish for the Kishinevsky line in 2015 (I still have a living to earn, after all…LOL)
Blog about the process
I do not expect to complete the above within 13 weeks. But the Do-Over/Go-Over is the kick in the pants I need to apply the same rigorous research techniques to my own research that I use when working with clients. And if Thomas runs this program again next year, I will apply the same techniques to another grandparental line.