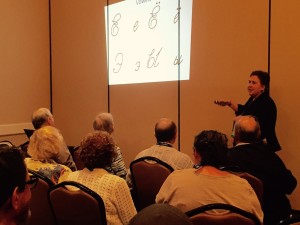 The IAJGS program committee originally scheduled me to teach this workshop last Sunday, August 7 from 3 to 4:15 pm. On the Tuesday before the conference, I was told the talk had to be rescheduled for an earlier time slot: 1:45-3:00  — they needed the large room I was supposed to be in for another event. I was concerned about how to notify people about the change, but was told not to worry.
Of course, when I got to the conference, I saw that the program planner that lists each session with its time slot and location still had the original schedule because it was printed so far in advance. I was told that the app showed everything accurately. I said that not everyone was likely to use the app. So a conference committee member posted an update to the app, I posted a notice on the IAJGS conference blog, and someone made a sign to put outside the new room that the class time and place had been moved.And more than two dozen people who had the app, found the right room at the right time, and I gave the talk to an enthusiastic and engaged audience.
Unfortunately, no one put  a sign on the door of the original room, so when people arrived for the class they thought started at 3, no one was there, and no sign said what had happened. And those people complained — loudly.
So I was asked if I would give the talk again, and I agreed. No hotel room could be found to give it in — so we set  up my laptop and a quickly rented projector in the back corner of the exhibitors' hall. And I gave the talk to another two dozen people, including Steve Morse, whose head you can see from the back in the front row.