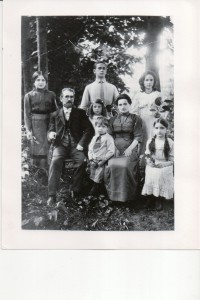 Pekler Family in Zhitomir c 1910
Since this is Surname Sunday, the time seems right to explore a mystery within the Pekler family. My mother's mother was Tanya Pekler (far left in this picture) back in Russia; the family spelled it Peckler in the U.S.
The surname Pekler means "smuggler" or, if one lived in the district of Orsha, "from the town of Peklo." 1 The name Pekler was found most often in parts of what are now Lithuania (Vilna), Belarus (Rechitsa), and Ukraine (Rovno).  My grandmother was born in Zhitomir, which is 117 miles from Rovno. This was a long way to travel in the 19th century, so it seems unlikely that the family came from there originally. However, my family stayed in Rovno for a year with false papers before they were able to emigrate in the early 1920s. Maybe they chose Rovno because there were relatives there. We will probably never know.
According to my mom, my great-grandpa, Naftula Pekler (the dapper, mustachioed patriarch in the picture), was not originally from Zhitomir, but no one knows where he was born. Naftula (who was known as Anatole in the U.S.) married Eugenia Gumenik about 1887. Their first child, Alexander (known as Sasha), was born in 1888 (he had already emigrated by the time this picture was taken). Sasha wrote that he was born in Zhitomir in both his World War I draft registration card and his naturalization petition. However, my mom says he was born somewhere else, but she doesn't know where. Unfortunately, although birth registers exist for the Jewish community in Zhitomir, the archives has not permitted them to be microfilmed or digitized, so there is no easy way to confirm or refute that for the moment.
To add a bizarre wrinkle to the story, my  great-aunt, Esther Peckler (in center of picture),  told me that the family's name wasn't even Pekler – originally, it was Shnurman. That name means a "man who makes string" in Yiddish. The name is found most commonly in the towns of Kovno (today in Lithuania) and Mogilev (today in Belarus).
Why would a family change their name from Shnurman to Pekler? One possible explanation relates to the laws governing military conscription in the early 19th century. When Jews were first permitted to enter the Russian army in 1827, only the eldest son in the family would be drafted – and he had to serve for 25 years! But if the eldest son in one family had already been drafted, no other son could be drafted later. Because the  duration of service was so burdensome, young men of military age did what they had to avoid being drafted. So if, for example, the eldest son of a Pekler family had already been drafted, the Schnurman family with an eligible daughter would marry the second or third Pekler son, and take that family's name. Her brothers would then adopt their sister's married name and could theoretically avoid becoming cannon fodder.
1Alexander Beider. A Dictionary of Jewish Surnames from the Russian Empire. 2008. Bergenfield, NJ: Avotaynu, Inc. 1008 pages.