The topic of longevity resonates with me – perhaps because I am lucky enough to have many long-lived people in my family.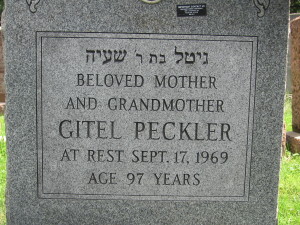 On my mom's side, although her mother died young as a consequence of childhood rheumatic fever having damaged her heart, her grandmother lived a long-full life. Great-grandma Eugenia was the oldest resident of the Jewish Home for the Aged in Chicago when she died. According to her tombstone, she was 97 years old. But other documents indicate she may have been as old as 108 when she died. Unfortunately, birth registers for Tiraspol do not seem to have survived the vicissitudes of history, so I will never know for sure when Eugenia was born.
On my dad's side there are two centenarians. My great-aunt Bea lived to be 101. Unfortunately she died frail and demented. Bea's sister, my great-aunt Sadelle, was a preemie when she was born in the winter of 1900, and was one of the first babies to be transported home in the newly-invented traveling incubator invented by Dr. Joseph Bolivar deLee. Sdelle was still dyeing her hair bright red and playing Rachmaninoff and popular tunes from her youth on the piano at age 103, died at 105. That's the kind of life I hope to live in however many decades I have left.
#52Ancestors